Our staff has over 50 years of experience successfully negotiating all of the ins and outs of natural gas supply and delivery.
Mary Hensley, President and Director of Marketing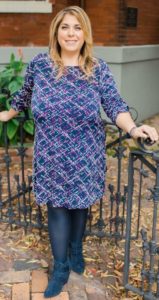 Mary knows her customers are busy running major manufacturing facilities, businesses, hospitals, and universities. As Director of Marketing, it is her primary focus to make sure that Enspire offers a competitive suite of natural gas products and services that allow our customers to do what they do best, while not having to worry about the complexities of their natural gas supply and costs.
Mary is one of the founding partners of Enspire Energy and has over 17 years of direct experience providing natural gas supply and service to industrial and governmental accounts in the Mid-Atlantic region.
FULL BIOGRAPHY
She started her career at Pepco Energy Services, moving from a marketing analyst, to gas scheduling, where she handled nominations and balancing for industrial accounts behind 17 different LDCs and pipelines, and eventually being promoted to a regional account manager, handling sales of natural gas supply to industrial and governmental accounts in the Mid-Atlantic region.
Mary then accepted a position as the Manager of Business Development at Compass Energy, where she helped to expand their customer base behind Virginia Natural Gas and Columbia Gas of Virginia. Since Compass was a smaller organization, she received first-hand knowledge of all aspects of the gas business from buying and selling supply, arranging transportation, and invoicing.
In 2005, Mary left Compass Energy to be one of the founding partners of Enspire Energy. Enspire Energy quickly grew to be one of the largest natural gas suppliers in Virginia, serving several Fortune 500 companies as well as industrial and governmental entities. In 2009, Enspire Energy was sold to Shell Energy North America, and Mary joined the natural gas sales team at Shell. Mary was responsible for natural gas sales to large industrial accounts, including to the federal government. She worked closely with trading to price out long-term competitive natural gas supply in the Mid-Atlantic region, while also handling complex contract negotiations and approvals.
In 2013, Mary left Shell to work on re-launching Enspire Energy. With the number of acquisitions and mergers in the natural gas supplier marketplace, Mary felt that the market was asking for a more local approach to natural gas supply. With the successful re-launch of Enspire Energy in October 2014, Mary is thrilled to be able to offer large commercial, industrial, and governmental accounts a new choice for natural gas supply in the Mid-Atlantic region.
Mary is the proud mom of two boys, and enjoys volunteering in her community as well as travelling and scuba diving in her free time.
Christina Sheppard, Senior Gas Operations Specialist
Christina joined the Enspire Energy team in March of 2023 as the Senior Gas Operations Specialist.  In this role, she is responsible for managing the pipeline nominations as well as LDC nominations and balancing commercial and industrial accounts in the Mid-Atlantic region.  She also handles short-term supply and trading to meet customer requirements and is working to expand Enspire's wholesale supplier relationships. Prior to joining Enspire Energy, Christina worked for 15 years at Dominion Energy working for the Enterprise Risk Management and the Gas Operations team.  While in Risk, she scheduled and transacted for the interstate and intrastate pipelines.
FULL BIOGRAPHY
Her experience includes scheduling and trading for over ten major pipelines in the Eastern part of the US, retail experience in Virginia, West Virginia and East Ohio and strategically providing natural gas to all of Dominion's Energy fleet. When she is not working or spending time with her three girls, you can find her on a run or relaxing beside the Chesapeake Bay.
Melissa Griffith, Manager of Operations
Melissa is the first employee of Enspire, with twelve years of experience under her belt between operations and marketing. Melissa started out in a marketing assistant role for Compass Energy and quickly ended up in scheduling. It was there she gained the bulk of her commercial and industrial retail experience, having scheduled gas for over ten Utilities in four states. After being with Compass for seven years, she left to become an Operations Analyst for Colonial Energy. Although her stay with Colonial was brief, it was there that she picked up experience behind more than ten new utilities and four interstate pipelines.
FULL BIOGRAPHY
After almost a year, Melissa left Colonial to tackle operations and marketing for Mary and Julie here at Enspire. She was drawn in by the past success of the women, and office close to her home in Virginia Beach. She loves the fast-paced environment of operations and the relationship building of daily trading, so she does both fluidly.
When Melissa isn't at work she can be found hanging out with her two kids, dominating obstacle course races, pounding the pavement, tossing around weights in the gym…Or just sitting on the beach.
Victoria Duffer, Regional Account Manager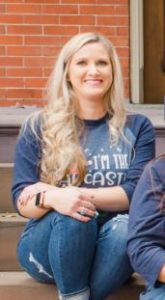 Victoria is a Regional Account Manager with Enspire Energy, joining our team in 2016. Victoria brings over 12 years of experience in the regulated natural gas market, having started her career at Virginia Natural Gas, a local natural gas distribution company based in Norfolk, VA. During her 12 years with Virginia Natural Gas, Victoria spent her first four years in commercial sales and distribution system design, where she was responsible for on-boarding new commercial customers, fostering relationships, and promoting increased natural gas usage from existing customers.
FULL BIOGRAPHY
Victoria was then promoted to the role of Industrial Account Executive, where she spent eight years working exclusively with existing and prospective Industrial and Government customers. Victoria was very successful in this position, increasing annual margins by $2.5 million through pipeline expansions and increased service.
At Enspire Energy, Victoria is responsible for natural gas sales to commercial, industrial, and governmental accounts in Southeastern Virginia, North Carolina, and South Carolina. Victoria is literally part of a natural gas family dynasty, as both her mother and her husband also work in the industry.
Victoria lives in Virginia Beach with her husband Jeff, and their various fur babies. She earned a BS in Communications from Old Dominion University, and loves to support her Alma Mater by attending ODU football games. She also enjoys camping, paddelboarding, gardening, and traveling to Aruba.
Amanda Nypaver, Senior Scheduler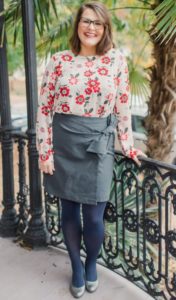 Amanda has been with Enspire Energy for over three years, and is currently a vital part of the natural gas scheduling team.  She manages pipeline nominations, and LDC nominations on a myriad of utilities in the Mid-Atlantic.  Her daily responsibilities include updating customer usage information, reconciling supply volumes with upstream counterparties, balancing individual customer accounts and aggregation pools behind the LDCs to make sure they are compliant with LDC balancing provisions and tariff requirements, forecasting volumes needed, and initiating imbalance trades with counterparties to minimize potential penalty exposure.  Now a seasoned gas scheduler, she has managed the natural gas balancing requirements for an extensive portfolio of industrial and large commercial customers. She is most proud of her customer service skills and attention to detail, as well as the ability to thrive in a fast-paced and high-stress environment. Prior to joining the Enspire team, Amanda worked in the fishing and tourist industry, where she excelled at customer service and providing extraordinary experiences for her clients. A graduate of Old Dominion University, Amanda has recently started pursuing her Masters in Nutrition and Psychology.
FULL BIOGRAPHY
When Amanda is not working, she spends her time with her family and two Pembroke Welsh Corgi pups, Franklin and Dupuis. She also loves to blog about healthy and tasty recipes and snacks, and has gathered quite an Instagram following.
Kelly Clark, Accounting Coordinator
Kelly joined the Enspire Energy team in August 2017 as our Accounting Coordinator and Office Manager. A Longwood College graduate, Kelly started her professional career straight out of college with Progressive Insurance. She spent just shy of 14 years working in auto claims, gaining invaluable customer service experience. After joining the Enspire team, Kelly quickly took over the role of customer invoicing, accounts receivables and managing day to day office duties.
FULL BIOGRAPHY
Outside of work, Kelly spends lots of time with her large family and enjoys attending concerts, running 5k's and pretty much anything outside with her son. During the summer months, you will typically find her on the beach in East Beach or OBX!